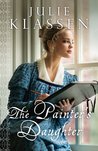 After reading two heavily-intense Civil War books by Michael and Jeff Shaara, I wanted something light and entertaining. Finding this on the "New" shelf at my local library, I picked up Julie Klassen's "The Painter's Daughter".
This Regency-era novel set in England could have been titled "A Tale of Two Brothers", as the story unfolds of two vastly differing personalities that happen to be siblings.
Wesley, the older, irresponsible brother, has been rescued more than once by his conscientious, upright brother Stephen. Wesley is a painter who meets Sophie Dupont when he rents a cottage from her father, who is also a painter in his own right. Convincing the meek and modest Sophie to model for him, he subsequently leads her astray and then blithely departs for Italy and more artistic pursuits. Sophie is left 'holding the bag' (in this case, an unborn child) but not for long… when Stephen seeks his brother he finds instead an opportunity to to rescue Sophie from a scandalous situation.
I enjoyed reading the historical segments of "The Painter's Daughter". Stephen, an English soldier, is caught up in the Napoleonic wars and embarks for Belgium. Sophie, now married to Stephen, is left to navigate not only a new and unfamiliar home but also new relationships with Stephen's family. The awkward situation only deteriorates when Wesley comes back home.
A novel of a marriage of convenience, I enjoyed this light read, with a few quibbles. When I read a historical novel I like to feel I am immersed in the time period. (Dressed for dinner, a character stating "we clean up well don't we?" somehow doesn't do it for me!) Although much of the book was a fast read and enjoyable, I did have a problem with one of the last scenes in the book. (I admit, it is possible that a book about a love triangle is just not my cup of tea). The two brothers (one of whom is a professing Christian) engaging in a fist-fight (on a narrow cliff-edged path no less) over Sophie's affections were for me just a bit too soap-opera-ish.
There were times when I wished Sophie would stand up more for herself (especially with her mother-in-law!) And I was hoping to see some character growth in Wesley, although the author did tie up all the loose ends in this story. The author develops Sophie's character as she gains confidence, and Captain Stephen's faith is not heavy-handed or sanctimonious (a temptation I've seen too many authors resort to, in their portrayals of Christianity!)
I was interested to read that there were secret passages in manor houses like the Overtree home that were used back in Elizabethan times, and also loved the beautiful photographs of the cliff walks in England that I saw in other reviews of this novel.
"The Painter's Daughter" is escapist historical fiction and certainly fits the bill for a summer's day read on the lawn, or the beach, or at camp.